Kettlestacks are all about affordable, dependable, convenient and comfortable kettlebell training; Like a lot of folks the idea of kettlebell training was interesting but the shipping costs and fixed weight nature sent us right to the hardware store for our first homemade kettlebell prototype out of pipe fittings (~20$US ). This went on for six months of happy (noisy) workouts -but some of the kettlebell motions (shoulder cleans) were out of bounds (when loaded with 6 10lb plates and no transitions).




Then came the 2nd homemade kettlebell (steps described below **). Because of the broad, cylindrical center face, snatches were obviously trivial, but what about shoulder cleans? Was it round enough? The first, very careful shoulder clean was comfortable- The 2.5,5,10 transition was fine. Going by the warnings of purists we thought our shoulder would come out of joint like an overcooked Thanksgiving Tom; Instead, even careless shoulder cleans caused no grief. Pay no attention to the man behind the curtain . . . .


At that point it was clear that standard plates, especially with some 7.5lb plates and the easy shape tweaking would suit most folks, but we took a few extra steps to entice the hardened DIYers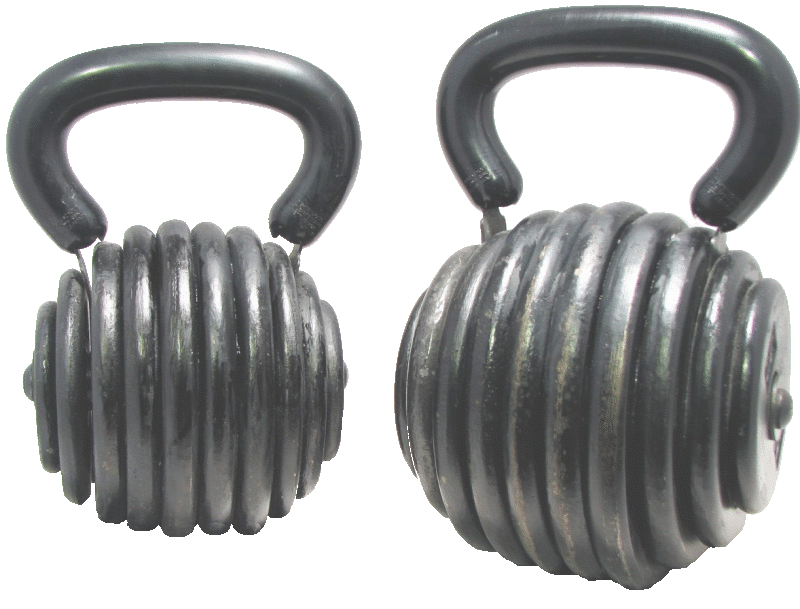 , Kettlestack was started and tens of thousands of otherwise uninvolved folks are now KB training ..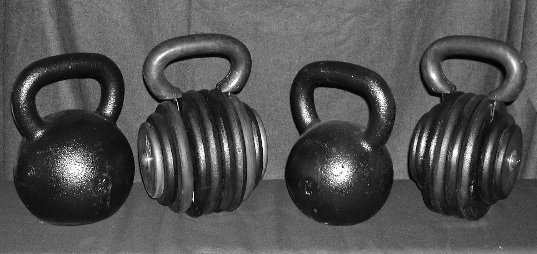 And don't forget our Our world famous assembly video ** steps to 2nd protototype:
Buy a steel strap: 1"x1/8" (2' long) and some structural coupling nuts.
Bend it into a handle and form the grip section out of (a lot of ) epoxy putty.
Make this KS= 2.5 5 | 10 10 10 10 | 5 2.5 and clamped it very tight to counter the fact that there are no hex holes in the band; This is basically the same plate setup as the far right KS on our old front page (above). BTW, are you hardcore DIY?
Please consider these (rather technical) points before you travel down the path of the 2nd prototype:
It will take a lot of putty, that will require a lot of very careful mixing to ensure a hard surface.
The bands won't be spring tempered or enjoy the internal pivot that prevents inadvertent kinking.
The bands won't have the hexholes to support the special axle; The mechanical link between the bands and the weight stack will result solely from clamping friction.
Your axle will just be a coupling nut and will always require two bolts;
Worse, nothing will stop the coupling nut from spinning inside the weight stack,and you won't even know how many turns each bolt has into the coupling nut. Very TRICKY.
Since the kettlestack has a captive washer on it's especially long hexaxle you get either a 1 or 2 bolt setup and the quick change option.
AND you get the shape tweaking that really lets you approximate a round kettlebell.